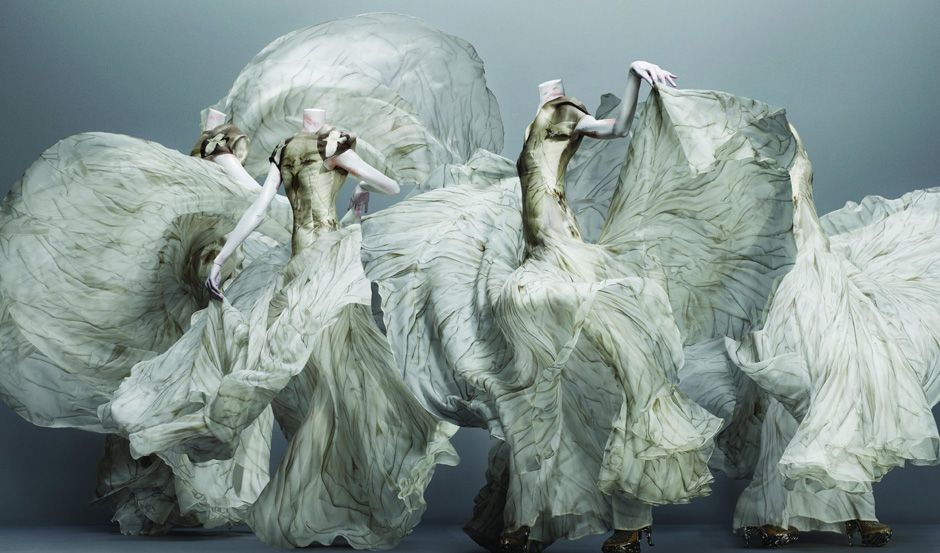 On the very last night of the Alexander McQueen exhibition, Michael and I trekked uptown to brave the 4-hour line at the Metropolitan Museum of Art. The exhibition, entitled Savage Beauty, was so popular that the museum extended its run by one full week, and then further extended its hours during the last week. The lines have been compared to the Metropolitan's 1963 display of the Mona Lisa.
We were completely blown away by McQueen's designs. He handled sharp tailored pieces and drapey, flowing garments adeptly and artistically. His work shows incredible range of technique and expression. His materials included feathers, silk, satin, leather, tulle, lace, beading, embroidery, metal, wood, razor clam shell, glass--all handled with aplomb.
I was particularly struck by his jacket from the collection, It's a Jungle Out There, 1997-98. I just couldn't stop staring at it. Note the sharp shoulders and the familiar image on the back. The jacket is made of silk and cotton twill; it is printed with an image from The Thief to the Left of Christ by Robert Campin, ca. 1430. I'm struck by the juxtaposition of this modern, tailored shape and the 1430 painting. Also remarkable is the whole notion of bearing the image of such pain on one's back. McQueen stated that he wanted his clothes to make a woman feel powerful. Many of his garments evoke images of suffering and pain--and through those images he expresses strength.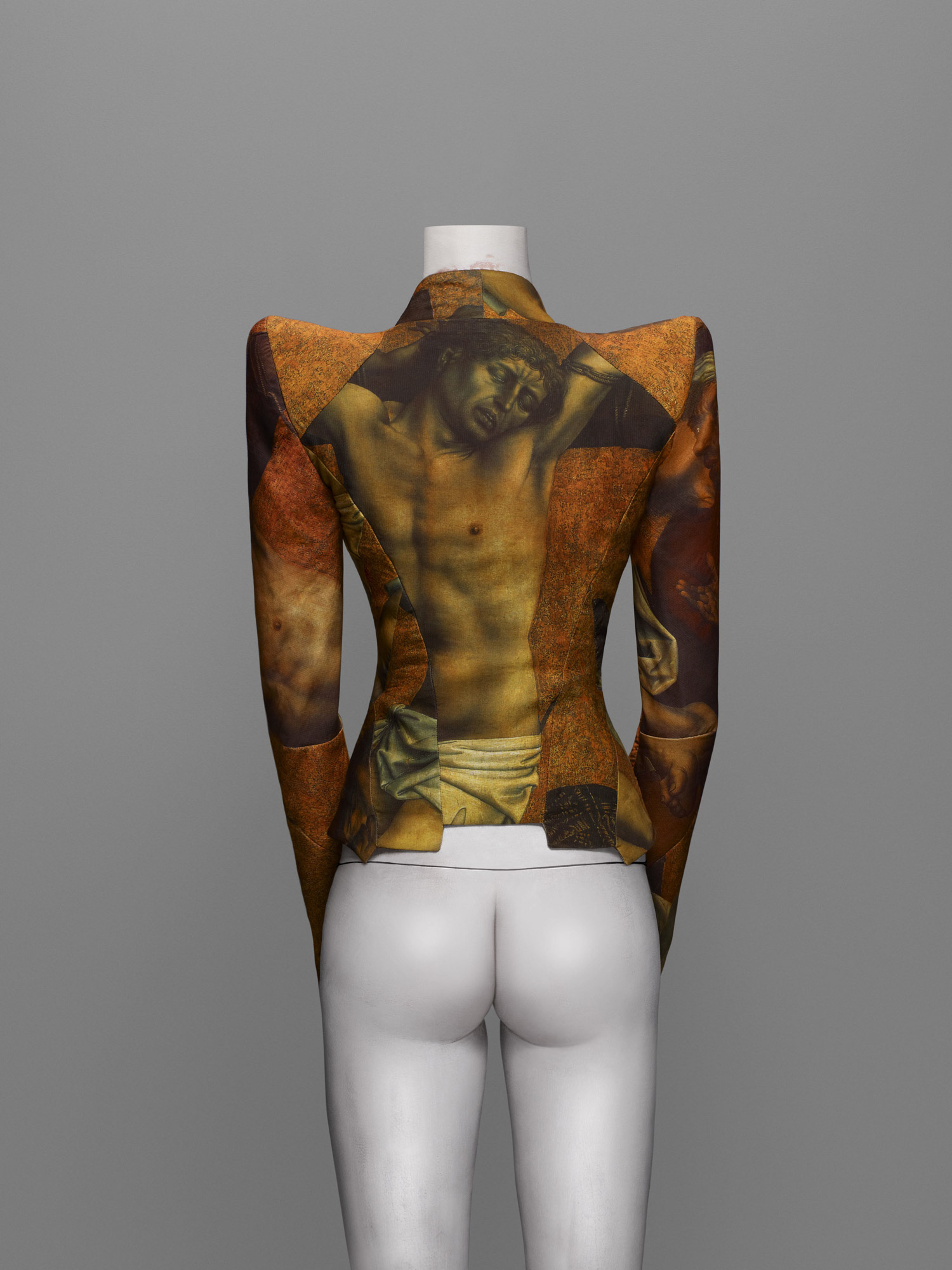 My favorite piece is a dress from McQueen's posthumous collection, Angels and Demons (2010).
Made from feathers dyed gold and embroidered tulle, the dress is breathtaking. It reminds me of the magic hen who lays golden eggs. The mermaid silhouette adds to the fairy-tale allusion. Papagena all grown up, perhaps?
The dramatic collar looks like a place to find protection or comfort. Imagine those soft feathers brushing against the chin and cheek. Using the most delicate of materials--feathers and tulle--McQueen creates an image nothing less than formidable.
This was one of the few items displayed behind glass. (Another fantastic aspect of the exhibition is that you can view a great many of McQueen's pieces up close, without the reflection of the glass.) The dresses from his final collection, though, are shown in an over-sized mirrored casket, and they speak loudly despite the glass.
DJ Mary's Pick:
Here's an excerpt from a holographic video in the exhibition. Yes, a hologram! Featuring Kate Moss and music from Schindler's List, it was originally a part of McQueen's 2006 Fall Runway Show.